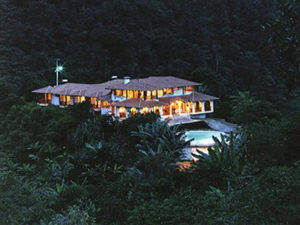 Hacienda Primavara Wilderness Ecolodge is located in the El Choco rainforest reserve. This is a great option for travelers looking to combine a trip to the Ecuadorian tropical forests with a hacienda experience. The hacienda is located three hours Northwest of Quito and one and a half hours Northwest of Otavalo. The same family has owned the hacienda for over 90 years.
The Ecolodge has large rooms, spacious suites, a gourmet restaurant, a pool and is part of a working horse and cattle ranch. Activities offered include horseback riding, guided jungle hikes, mountain biking, white-water rafting, and an autoferro train ride. Hotel guests can explore the lush tropical surroundings and the many waterfalls through various excursions or participate in daily farm activities such as cattle herding or milking the cows. The ecolodge maintains an eco-friendly atmosphere by promoting local conservation, reforestation and responsible travel.
El Choco cloud forest reserve has primary and secondary forests, and guests can hope to see a variety of tropical birds such as parrots and toucans. The lush forests surrounding the hacienda contain the largest amount of flora and fauna per square meter than anywhere else in the world. The tropical forests are abundant in endemic species, epiphytes and orchids. An additional bonus is the proximity to good white-water rafting: interested guests must request a rafting trip prior to arrival.